Today's Deal: 12 Months of Unique Pre-written Newsletters from Photo Business Tools {Save 80%}
| Value | Discount | Savings |
| --- | --- | --- |
| $120 | 80% | $96 |
105

bought
The deal is on!
Tipped at 9:20:58 AM with 1 bought
---
The Fine Print
* Redemption instructions will be sent within one business day (excluding weekends/holidays) directly from Photo Business Tools to your Photo Deal Cafe account email address.
* Because this is a digital product, there will be no refunds.
Highlights
An amazing pre-written newsletter.
Grow your sales, increase your referrals, and develop repeat customers!
Newsletters are a fabulous way to stand out from your competition, build customer loyalty and increase your sales!
This is also a fantastic way to build word of mouth marketing for your business!
Our professionally written newsletter will help you do all of this and more! All you have to do is add in your own images and logo, upload and send it! It couldn't be easier!
---
Share: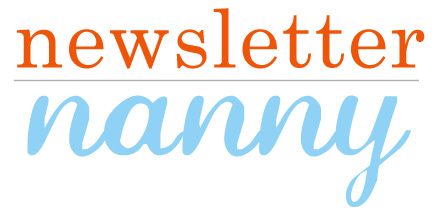 For only $2 per month, you can send an AMAZING newsletter to your clients each month for one full year!!
Sending monthly newsletters to your clients is one of the strongest ways to build your client base over the years, which helps to increase your sales and referrals! With the Newsletter Nanny service, you can do this is just minutes each month. It couldn't be easier!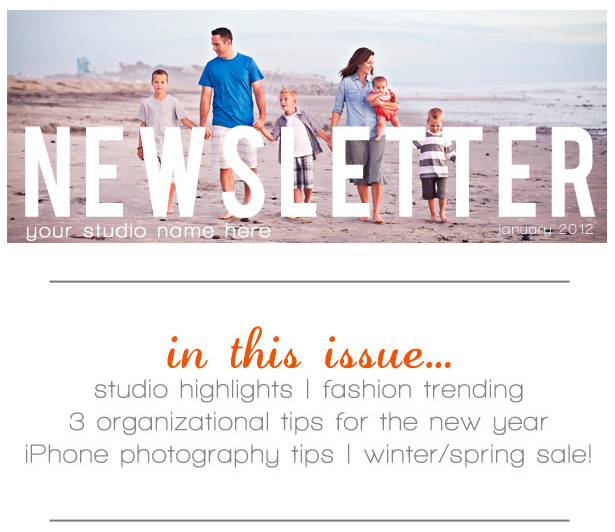 Could you get excited about setting yourself apart from all the other photogs in your area? How about more customers and sales? A monthly newsletter just may be what you need!
The Newsletter Nanny service provides all the content you need and sends it to you each month to put together a professional email newsletter with 3 simple steps!!
Step 1 - Customize (add your brand to the banner, and link back to your blog)
Step 2 - Upload (upload what we provide to your email service company - we recommend Mad Mimi)
Step 3 - Send!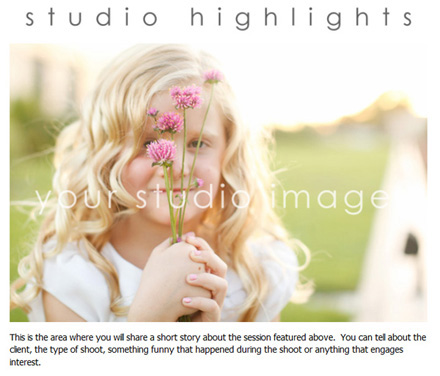 Why a newsletter?
Establish yourself as the expert in your field

Stand out in an oversaturated market

Develop life long customers

Be the photographer in front of them when they are ready to buy

Dramatically increase your word of mouth marketing!
---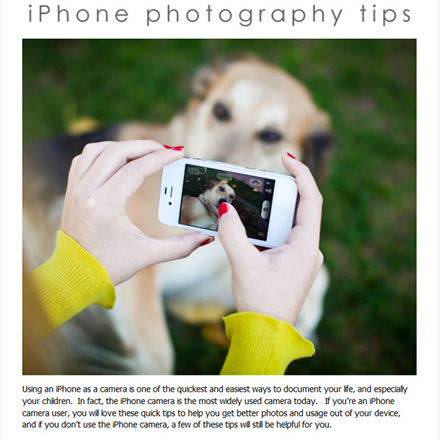 ---
Keep it simple, let us do all the work for you!  The Newsletter Nanny service will make you look fabulous! On the first on each month we will send you everything you need to create a great newsletter, including:
3 Banner Images to choose from

3-4 Articles

3-4 Images to go with the Articles

Section Headers for each Feature

Inspiration or Comic Relief

Extra Materials
Each item will be ready to download as a jpg, psd or doc, depending on the piece, and a tutorial will be included. Just add your branding, a few of your images, and boom - done!!
---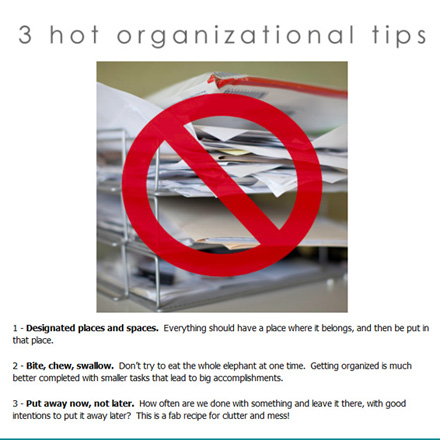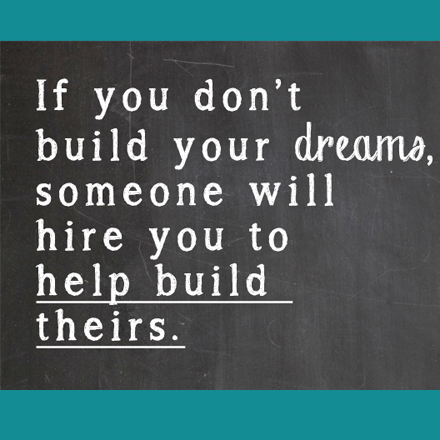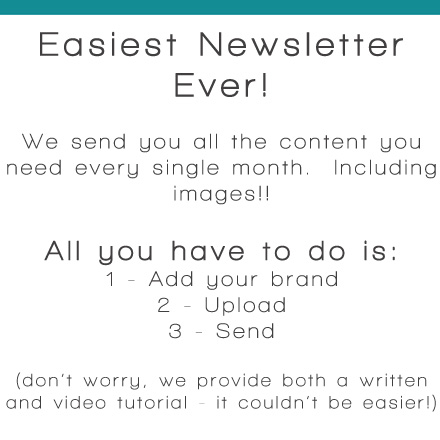 ---
Each set of contents will be sent to you on the first of every month for the following month, plenty of time for you to throw on your logo, add some highlights from your blog and a promotion, and voila!  You can now send a stunning newsletter out to all of your followers! Even link it to Facebook and other social media platforms!!
Check out a sample newsletter issue HERE
---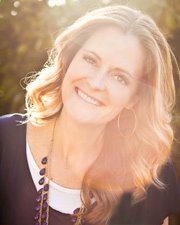 About the Author:  Amy Fraughton, creator of the Newsletter Nanny and owner of Photo Business Tools, is a small business guru with over 16 years experience running successful small businesses!
She has been recognized nationally for sales and leadership and loves to help others find the same success!  Her site, Photo Business Tools has helped thousands build their business skills while increasing their sales, referrals, and more!
---
REVIEWS: 
"I absolutely love it. Such a big difference, things went so smoothly rather than staring at my screen trying to figure out what the heck to write about and include. I felt very stream lined and effective." - Jody C.

"I am so glad that I found your Photo Business Tools site and Newsletter Nanny. You really helped me to jump start my dream of being a professional photographer and I have received numerous compliments on my newsletter!" - Michelle C.

"I'm loving your service so far! I already have the newsletter prepped, I just need to add my blog highlights and I'm done. It's fantastic!" - Jodi R.
---
Redemption instructions will be sent within one business day (excluding weekends/holidays) directly from Photo Business Tools to your Photo Deal Cafe account email address.
The Company
Photo Business Tools
Gilbert, Arizona 85234
United States
website